Social Skills Groups: Kindergarten - Adulthood

Difficulties in social communication can have lifelong impacts including social isolation, poor reading comprehension, school dropout, lower employment rates, and depression. It is our goal to give our clients the tools they need to be successful, fulfilled, members of their community who participate in a variety of social activities.
At Spectrum, we teach social skills combined with recreation activities to build skill acquisition, fluency and generalization within the types of activities that our clients want to access but often cannot due to their misunderstanding of the social nuances of group interactions. Everything we do is underlined by our belief that social interaction must be fun to be motivating enough for our students to do the work involved in applying and practicing the skills necessary to be successful in a social world.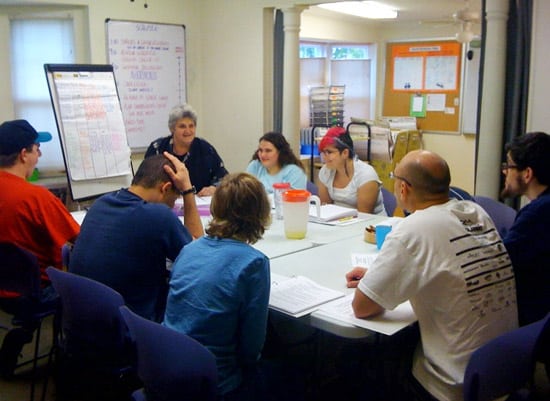 Our instructional strategies are based in strategies from applied behavior analysis and cognitive behavioral therapy, a logic and action based strategy of setting goals and taking the steps to achieve those goals. All students set personal goals based on their social experiences and needs and work to master those goals.  Spectrum social groups primarily serve students from age 6 through adult with specialized adult groups for young men and women working on building social living skills for increased independence.
For students not yet ready for group learning activities due to age, skill level or significant behavioral issues, we offer individualized Individualized, 1:1 coaching or dyads/triads for very small group learning opportunities.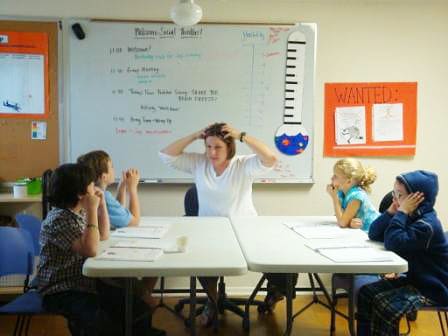 Curriculum for a group is selected to support the learning objectives of each group and activities are designed to intrigue and engage the clients enrolled in each class. Our instructional strategies are unique in our utilization of direct instruction followed by activity based reinforcement and practice.  This is where recreational therapy plays a key role...teaching group games with a purpose and using them to help students identify how the use of certain social skills helps them attain their goals within the game and how not using their skills, "breaks" the game, has been highly effective.
Spectrum's social groups are small with an average of 6 students in a class (some more some less depending on participants).  We always have at least 2 staff members leading the group.
Spectrum offers group experiences for clients seeking to improve their skills, knowledge and abilities in the social world including home, community, work and school.
Instructional / Therapeutic Groups – one hour on-site programs focused on instructional and therapeutic interventions for skill acquisition, development and progress in need areas.
Applicants are offered the group(s) we believe will best meet your needs and help you progress toward your goals based on the information you provide.
To Enroll:
1) Review our detailed virtual social skills information.
2) Fill out an online application by clicking the button below.

3) We will contact you, within one week, to acknowledge receipt of your application and, if appropriate, schedule an intake meeting ($100 fee).
Spectrum group sessions typically align with the public school calendar as that is the most convenient for the majority of our clients. Applications may be submitted at any time and will be reviewed as soon as possible after receipt. As a general rule, applicants can expect to receive a reply to their application within one week of submission. New groups will be formed and will start whenever we have enough applicants working toward the same goals.